2 tags
My Creative Creation
 Let me start out by saying HAPPY FRIDAY! woo! yea! (HA HA). I thought I'd share with you something that I have been hooked onto for some time now..photoshop. I actually just completed a class that focused on it, which is highly valued in different industries including fashion and publication. For those who have no clue on the topic, then click on the following link for better...
3 tags
4 tags
Sunday @ beacon's closet
  It's the start of yet another work week and hope you guys made the best of your weekend. That almost wasn't so for me until I had the sudden urge to venture out solo on a Sunday morning. I was in the mood to go on an adventure and being the spontaneous person that I'am, I did just that. I decided to go to a fashion destination…beacon's closet. Before heading out the...
4 tags
A Spot In Fashion History for Thom Browne
   Many may have reaped the benefits of not having to report to work and face the frigid weather today due to MLK day but that wasn't the case for myself. A cup of coffee, a few emails and an errand later I found myself reading some huge news, both political and fashion on New York Times website. I was eager to find out which very lucky but well deserving designer the first Lady chose to...
5 tags
1 tag
3 tags
Style Like U: Hannah & Vita Kurland →
3 tags
Salute Worthy (Boring Hat Fix)
  Good day to my inner stylists! while doing some much needed work I had a sudden style craving..a new obsession…CAPTAIN HATS! I have been inspired for sometime to build a doorman-esque outfit, I actually dreamt the idea (yes I have style dreams,lol). It's a look I would like to experiment sometime in the fall. So think of PUNK + DOORMAN. But waiting for fall to come to wear this hat...
1 tag
Eye candy to say the least...Dope street style at...
1 tag
Nobody Dope like you, you Designed yourself.
3 tags
2 tags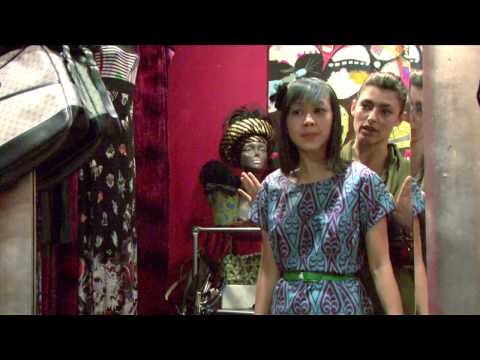 4 tags
Watch
DIY STYLE
M.I.A
  It's been awhile since I uploaded anything on StyleNevaDies and that is mostly due to truthfully procrastination. I've been experiencing something close to writers block or maybe lack of inspiration or I'm just too hard on myself of whether my ideas to post are good enough, I'm a perfectionist by the way. I've also found myself getting into fashion based projects and having the desire to write a...
3 tags
Borrowed from the Boys: Chuck Taylor Premiums
                         The classic and always favorite Converses also known as Chuck Taylors have a limited edition that is all white leather with tan leather brand logo sold at Kith NYC. A lot of New Yorkers, especially those into grunge allow their Chucks to get dirty which gives it "character", but these limited editions will make one want to tidy up and step it up a notch....
4 tags
H&M To Launch Margiela Collection
  According to WWD, H&M will be collaborating with big fashion house Maison Martin Margiela.The line will go on sale in approximately 230 H&M stores worldwide and online on November 15th of this year. "The fast-fashion giant has previously collaborated with the likes of Karl Lagerfeld, Comme des Garçons and Marni on collections that routinely draw long lines of...
3 tags
Fabric that won't stain
  Your entire home decor covered in plastic to prevent it from staining is a very familiar concept but according to Lifestyle expert Elizabeth Mayhew, your furniture being stained is nothing to no longer worry about. The latest outdoor fabrics are stain resistant but nice enough to use indoors. So allow the children to play on the furniture and be less reluctant when wanting to enjoy your favorite...
4 tags
Art fest
                          Beginning this Friday The 53rd Dollar Bank Three Rivers Arts Festival will be holding the "biggest creativity zone ever" in downtown Pittsburgh and admission is free.  It's a collaboration with local arts organizations and artists. Featured activities will be musical performances of many genres, The Juried Visual Art Exhibition, family activities...
4 tags
Dope style of the day
                                Allison was spotted at Art Institute of New York City wearing a sexy casual chic ensemble. Sport this look for the weekend with gal pals or a flirty first date.
7 tags
Dance off on wheels
  This past Thursday morning began like any other which usually includes the "Today" show with Kathie Lee and Hoda Kotb. But something was a bit off, they were dancing to a song with their legs in the air..it was their version of a viral video that is now sweeping the nation. The video is of Harvard baseball and Southern Methodist University crew teams who created a parody video of...
3 tags
Tips on how to preserve food properly
  When it comes to preserving our food, the first thing we know to do is to store them in the fridge. It's how we were groomed, food + fridge= freshness. "Designer Jihyun Ryou has made it her mission to, preserve some of those old methods of preserving food, designing this minimalist system for the modern kitchen." In this article Jihyun gives us a better understanding of how to...
2 tags
4 tags
Sustainability
  Clueless star Alicia Silverstone, whom is known as being a vegan and eco-friendly "..has just launched a collection of organic, natural make-up and natural skin care products, together with a California beauty firm." She believes that organic products can work as well or even better than traditional products. I would have to side with her due to that I'am a big fan of organic...
1 tag
3 tags
Windbreaker
  Okay so, I'm currently working on my Midterm Trend Presentation. About a month ago or so I noticed someone on the train wearing a throwback windbreaker jacket and I was taken back by the sight of it because it brought back memories from my 90's childhood like female group band "TLC", Will Smith in "Fresh Prince of Bel air", "Clarissa explains it...